How To Update:

Important:
Do not update the Nextion Editor.

With newer versions, our DataDisplay does not work as desired.

Version 1.61.2 from the update package is correct.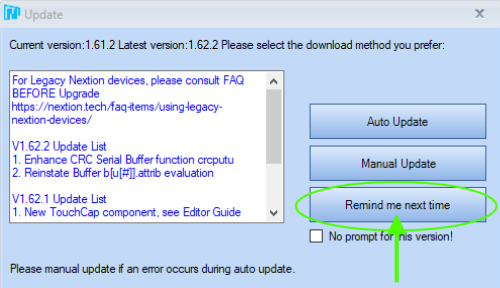 If the update has already been made, uninstall the Nextion Editor and reinstall it from the update package.

If an HMI file was opened with the newer version, it cannot be used for the "old" version. Delete the file from the PC and download it again.
---
2021/03/14
If the display version is already V4.270 it only needs to update the Controller_Version 4.27X.Hex
If the download does not work, use another browser.



4.275
 - fix ext. oilpressure sensor values/graphs
 - Test N20 Freeze
 - F-Series N57: System-Settings "DDE Version 1/2" - if Boost actual does not match Boost target change it.
 - N63 LCI engine (select ECU1 or ECU2)

4.274
- Add Oilpressure for N43 and N53 E-Series

4.273
 - Fix N20 Oilpressure

4.272
 - Add N57 F-Series Manifold-pressure
 - Fix N57 F-Series (OEM BMW Bug Oiltemperature)

4.271
 - Add N63 LCI
 - Fix N57 F-Series Boostpressure actual
 - increase display response speed
 - Fix Battery Voltage on some older models
 - Fix F-Serie N63 IAT
 - Fix Black screen after manual power off Display
 - New custom color setup
 - Fix Active Sound Design (ASD) OFF


---
If the display version is already V4.260 it only needs to update the Controller_Version 4.265.Hex
Update 29.August 2020
Update 14.July 2020
Update 09.July 2020

4.265
 - Fix Dashbar oilpressure (with external sensor) time overflow
 - Small Fix N47 E-Series
 - FIX Relay Control Relay 2,3,4 arrangement
 - Fix Limit Settings (decreas / increase bugs on some limits)
 - Fix Limits - wrong after reboot
 - Fix OBD2 Blocker F-Series - Now no access to ECU if active
 - B58 Delete-R improvement
 - F-Series N63 support
 - Fix ASD OFF after car restart

4.260/4.261
 - Fix Freeze of Display
 - F-Series: Delete-R Improvement
 - Fix External Oilpressure Sensor
 - Add Touch-Calibrate Function (Settings - System - Debug)
 - OPF-Delete Improvement (to be tested/confirmed)
 - F-Series S63 exhaust flap update (to be tested/confirmed)
 - F-Series Soundtuning "Panik" - Press RES Button for 3 seconds - "Exhausflap to Auto" and "Soundtuning OFF"
   Indicator: Constant ON = Soundtuning OEM
   Blink "defect" = Soundtuning OFF and Exhaustflap back to Auto

4.262
 - Fix Failsafe for Limits

4.263
 - Fix Soundtuning manual switch
 - Fix "Panik-Mode" indicator off if exhaustflap not activated


---
Update 05.June 2020

4.231
 - Fix N57 F-Series "Distance since last regeneration" in dashboard
 - Fix N57 E-Series Lambda
 - Fix Voltage if car production before 2007 and has no voltage by default
 - Fix G-Force small max value (was wrong)

4.240
- Fix Freeze at Warning-Page (Limit setup: warning active with bad settings)

4.250
 - Add Option for OPF-Delete Level to increase the OPF pressure (in case of problems) more info...
 - Fix "delete errors at start" for E-Series
---
Update 26.April 2020

- Fix F-Series N55 Exhaustflap feedback freeze using RES button
- Rework Limit function (setup menu for water- (water/methanol-) injection
- Autodetect B58 I-Stufe
- N57 F-Series Bugfixes
- fix time measurement accuracy (1/100 seconds range)
- update CIC Style & change base color to "ocher"
---
Update 09.Mar 2020
 - Fix F-Series N55 Bug (older models)
 - Fix Display keeps off at keypad page
 - Fix HMI font bugs
---



Update 17.Feb 2020
 - Silent Mode (Exhaustflap closed for 120 sec. after start)
 - Bugfixes OPF-Delete (coming soon)
 - Fix B58 Flap back to OEM
 - Fix N52 Engine CanBus Error
 - Font Change HMI
 - Change: No reboot after unlock Display
---
Update 18.Nov 2019
Version 4.116 Puplic Beta DOWNLOAD

Update 18.Nov 12:30
- Fix OBD2 Blocker
Update 10.Nov 15:45
- Fix black screen after locking

Update 09.Nov 13:55
- Fix B58 Freeze Values when exhaust flap open

Update 09.Nov 13:40
 - Fix N57 F-Series Boost-actual value (does not match)
 - Fix short main-menu page before Bootlogo
 - Fix Freeze at Code/Pin Page and custom temperature sensor settings

Update 07.Nov 17:30
 - Add Units "imperial / metric" option
 - Check N57 F-Series Boost-actual value (does not match)
Update 02.Nov 14:30
 - Fix Colorsetup

Update 01.Nov 18:00
 - Fix BootLogo delay (no text)

4.116 (BETA RELEASE)
 - Fix Diagram
 - Fix Laptimer
 - Changed Font 7-Segment
 - Fix Save last state Exhaust Flap
 - Speed improvement / Freeze improvement

---
Update 23.Okt 2019
4.115 (RELEASE)
 - Display library improvement
 - Laptimer Start/Stop issue

4.114
 - Add S63 Engine
 - Fix Freeze F-Series
 - Speed improvement (General Display)
---
Update 04.Oct 2019

NEW DataDisplay Updater Version 4.113 DOWNLOAD

Manual DATADISPLAY UPDATER

4.113 (RELEASE)
 - Add E-Series external Boost Sensor Option 1) BMW Sensor 2) Zada Tech
 - Fix Freeze F-Series (N13,N20,N55,S55,B38,B48,B58) depending on ECU ID values can freeze with older versions
---
Update 21.Sep 2019

4.112 (RELEASE)
 - Fix F-Series N55 Pneumatic Wastegate freeze
 - Fix disable Soundtuning N55 F-Series
4.111
 - FIX OBD2-Blocker (ended up in keypad loop)
4.110
 - To Test: New version 100% "Street Legal" available. No exhaust-flap-control and E-Series DSC/DTC function included
 - Fix Oilpressure absolute value (without ambient pressure) - to be confirmed
 - Check Diagram negative values should not be shown as max line
 - Fix save max value oiltemperature N57 E-Series
 - Fix: B48 Mini Exhausttemperature wrong
 - S55 EKP Control (continiously activate pump until Stop button is pressed - feedback at button)
 - Fix F-Series N47 Engine values
 - Add new Option "Delete Errors" (E-Series). Delete all errors with display boot
 - Add E-Series N47 Engine Values
 - Add F-Series B38 Engine
 - Fix N57 values to relative instead of absolute
 - Reboot after Display-Unlock (to prevent freeze of values)
 - Add external oiltemperatur sensor option for N14 Mini
 - Add "Delete DMTL" for S55 (if OPF is removed and US-Software is flashed this error will appear if function is not activated)
 - Add Exhaust Temperature to Dashbar
 - Fix Limits (all 3 values combined)
 - Add B47 Engine
 - Rework "Big Single Value" - Shows the first Value from Dashboard Setup (Left Top)
 - Preperation for F10 rear axle ("airride")

4.109
 Beta Releases
---
Update: 14. May 2019
Version 4.108/4.108V2 DOWNLOAD
- Bugfix N14 / N20
Update: 13. May 2019
 4.107 / 4.108
 - add N14 Mini
 - Fix Color issue if "save last page" is enabled
 - Visu fixes
 - Add start option to set exhaust flap always to open/close/auto (press on text for exhaust flap activation)
 - BUGFIX: F-Series, no longer need to turn ignition off and lock the car once the display is locked to unlock the OBD2 Port
 - Prepared PWG / EWG Settings (Systemsetting) for N55 F-Series - Need more tests

---
Update: 26/27. April 2019
 4.106 V2
 - Fix M47 DPF Values
 - Fix "BetterFonts" 3.2 Inch Display
---------------------------------------------------------
 4.106
 - Fix "Best Times"
 - Add warning to factory reset
 - Add CPU load and free RAM at info Page
 - Calculations at some pressure values now without ambient pressure
 - Split program to different language locations - choose correct language pack during Update
 - Change global settings color setup. Optional change Headlines, Texts, Values and Units color.
 - S55 add fuel "low-pressure" signal
 - S55 add oillevel in mm
 - Add fix custom NTC temperature sensor values (no reboot required if less digits as value before)
 - Some visu changes (button styles)
 - Limits: Railpressure limit now up to 2000 bar
 - Add external NTC temperatur sensor for F-Series which have stock oilpressure (i.e. Rear-Diff Sensor)
 - Add color control for external temperature sensor (color setup last page)
 - OPF Delete-R preparation (Need error informations from customers to test)
 - Add N57 F-Series Engine
 - Change exhaust flap "timer" to prevent "flicker" exhaust flap in cold-start (F-Series)
 - Fix external Oiltemperatur Sensor for N57 E-Series
 - S55 Fuelpump ON/OFF (needed for VLN Race Cars)
 - fix save option for external exhaust temperature sensor
 - Add Water- and Oiltepmerature to Custom Dashbar
 - Add 3.2" and 3.5" NBT Style with nicer fonts (only as TFT file - no edit possible, manual for uploading in "Wiki")

---
BETA VERSION: Update: 22. Jan 2019
 - Fix Font-Bug 7digit small Font
 - Fix Font-Bug Safe-Mode
 - Removed Italian language (if needed contact us)
 - Fix Relay save last state if manually switched on
 - Save Water- and Oiltemperature max values
 - add option for external boost pressure sensor (S65 engine only - Settings/Special/Page2)
 - Show height difference at time measurements (if GPS Signal is supported)
 - Option Oilpressure instead of Exhausttemperature at Page 1 (press on icon to switch)
 - Add M57/T Engine (old 2004 diesel) to option (Settings - System - Page2)
 - Add new Max Page: Shows best times "ever". 0-100, 0-200, custom speed, 1/4 mile, 1/8 mile, 1/2 mile

 - reorganisation of max values
        Max 1:
        1 Torque            4 Watertemp
        2 Power             5 Oiltemp
        2.1 (torque)        6 Speed
        2.2 (rpm)
        Max 2:
        1 RPM               4 G-Kraft (Längs,Quer)
        2 Boost Actual      5 Boost Target
        3 Airmass           6 IAT
        Max 3:
        1 Time 0-100        4 1/4 Mile
        2 Time 100-200      5 1/8 Mile
        3 Time custom       6 1/2 Mile

---
Update: 28. November 2018
Version 4.104 V7 DOWNLOAD
28.Nov.2018
Update V7:
- New Controller AK01E support. The new Controller will ONLY work with THIS VERSION.
All older controller will also work with this version.
Update: 02. November 2018
Version 4.104 V6 DOWNLOAD
02.Nov.2018
Update V6:
- Fix N13/N20 F-Series Exhaust Flap Control
Update V5:
- Fix N20 F-Series
- Fix Save Relay-Status
- Difference pressure (for some diesel DPF values) without ambient pressure
22.Sept.2018
Update V4:
- Fix change bargraph switch at power-page (was switching to time measurements page)
Update V3:
- Fix external Oiltemperature Sensor active even in safe-mode
Update V2:
- Fix custom oiltemperatur sensor remanent saving of values
- FIX OBD2 BLOCKER !!! Was "Thief Protection" now back to complete block of all Diagnose Signals.
- Save last relay state
- Pageupdate "Info-Status": E-SERIES N54 Test (Oillevel in mm, Oil-permittivität and battery condition in %)
- Prepare exhaust-flap variable to use in different pages (will be described at Wiki Workshop)
- Fix some imperial (not metric) values
- Add S63 Engine E-Series
- F-Series RES-Button delay 750ms to prevent switching Exhaust-Flap all the time
- Update Visu Pages (some fixes, some code-size cuts)

To be tested:
- TEST Gearbox-Temperature for F-Series manual shift
- TEST Shifttime even for Automatic and DKG Gearbox (at time measurements)
- TEST Speed-Offset "Set" Button for 100 and 200
- TEST Press Speed Icon at Temperatures Page for changing between Speed/Oilpressure/Rear-Diff-Temp
- TEST Add Custom Oiltemperatur Sensor Setup (press on Text in Settings to open Setup)
---
PUPLIC BETA VERSION:
Update: 21.Juli 2018
4.101 BETA
- Switch between Speed - Oilpressure - Reardiff (press on icon to switch it)
- Test MFL (Limiter "Reset-Button" F-Series)
- Speed Offset Button "SET"
- Add Big Single Value Option at custom page (now 4 subpages - press big single value to change it)
- Logging cycletime (Settings - System)
- B58 new I-Stufe implementation complete (Settings - System - Page2)
---
Update: 07.Juli 2018
- Version change to 4.1XX
- Fix Time-Measurement issue (no time counting)
- smoothness of manifold pressure sensors
- New B58 ECU-Software implemented (to be done)
- First test of logging function
---
Update: 30.April 2018
Update 4.032 V2
IMPORTANT: Fix: Freeze when First start setup takes longer than 15 seconds !!!
- M54 Engine added
Version 4.032 V2 DOWNLOAD
- 1/X Mile abort when Speed is 0 again
- Fix: Delay Time / Freeze at time-measurement
- delete JB4 Versions (F-Series) - will be extra Version
- Fix: switched Values Oilpressure + Railpressure N55 E-Series
- Add Oiltemperature to N57 Diesel E-Series without external sensor
- Change: Limits now show "Warning" Picture and can be combined with relay extension board
- small visu changes
- Add manifold (exhaust) pressure sensor option (features)
---
WARNING: Known Error: Torque and power are not showing values on the second page "Vehicle Status". Will be fixed quickly!
Version 4.031 V2 DOWNLOAD
- Fix Engine M47
- Fix "Boost" to "Airmass" if no Turbo-Engine (To be tested and confirmed)
- Test M-Instrumentcluster in not M-Vehicle (working shiftlight at rpm gauge) // To be continued
- Fix Torque value if Offset is < 1.0
- Fix Torque value show negative
- Fix S55 (F-Series N55?) Exhaust Flap delay
- Fix OBD2 Blocker (known in 4.030)
- Fix Units naming
- Some Visu improvements
---
Version 4.029 DOWNLOAD
- NBT Style for testing
- MFL Buttons (Steering Wheel) for switching Exhaust Flap and Soundtuning (F-Serie) - (Settings --> Global -> scroll down -> MFL Setup)
First delete button, then choose your button.
Important:
There is a small Bug reading the VIN from the car.
If there is a problem with the activation please send us your VIN (last 7 digits) and the HW-ID number, which is written at the Info-Page (Info-Icon at Mainmenu). We will send back the new activationcode which will work even you put the display into another car.
---
Update: 29.01.2018
Version 4.027 DOWNLOAD
Update: 06.01.2018
Version 4.026
Update: 29.12.2017
Version 4.024